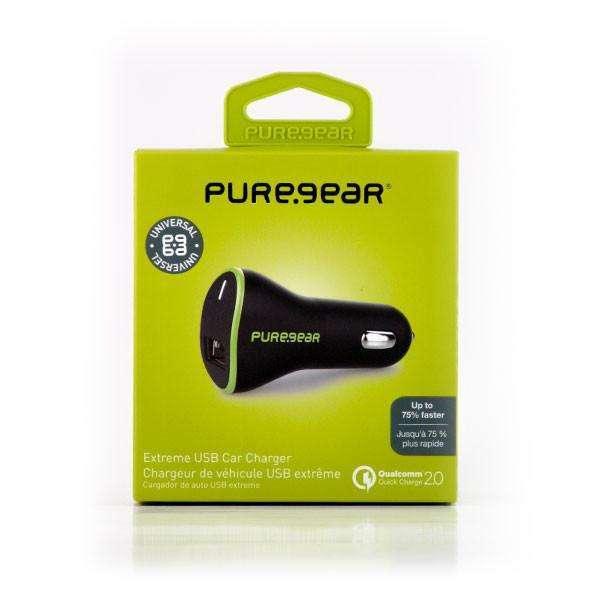 Qualcomm Quick Charger 2.0 PureGear Car Charger Extreme 2A Retail Packaged
Qualcomm Quick Charge 2.0 Purgear Car Charger
Fast Quick Car Charger to charge your devices faster with Qualcomm Quick Charge 2.0 car charging technology
Reduces charging time up to 75% in Qualcomm Quick Charge 2.0 enabled products compared to standard USB charge rate
Best Car Charger for older model samsung galaxy s3 s4 or s5 devices at regular speeds
Rubberized finish
Qualcomm Quick Charge 2.0 is compatible with Snapdragon 800, 600, and 400 series processors including devices like galaxy s6, s6 edge, samsung s7 or s7 edge, Samsung Galaxy Note 5,  Samsung Galaxy S6 Edge+, HTC One M9, Motorola Droid Turbo and many other upcoming devices.
Works with usb and also usb type c devices
works as a samsung galaxy s8 car charger
Is this a s8 quick charge 2.0 device

QUICK CHARGE 2.0 from qualcomm is in this device.

What that means is compatible smartphones can now charger way faster than you they used to charge. With qualcomm quick charge your s8 and s8 plus can charge around 1.4 times faster than older model phones.

The s8 and s8 plus both have the quick charge technology in the phone.

A quick charge 2.0 car charger will also work with other samsung galaxy smartphones and lg compatible devices. Motorola also has the technology in the phone as well so check with your manufacturer to make sure it has it.

Now quick charge 2.0 vs 3.0 for some phones will not give you more juice if you purchase the 3.0 one. It depends on what your smartphones capabilities are. It will still charge at the 2.0 rate though.

This car charger does not come with a cable so you know.