Official Samsung S Pen Creator Edition Retail Packaged
Key Features
Control your Samsung device with maximum precision with the s pen creator edition
Samsung S Pen Creator Edition Comptible with all samsung tablets, samsung fold s3, fold s4, fold s5.  Samsung s22 s23 ultra etc
Perfect for note-taking and digital artists
Round end stylus won't scratch or damage your screen
Control your tablet with the S Pen Pro
Official Samsung accessory
Pair with the Samsung App to find the location of the S Pen Creator Edition
s pen creator edition price cant be be beat here
Description

Write like a real pen, with this very comfortable and solid in-the-hand S Pen Creator Edition. It writes with a barely perceptible input delay, allowing you to have the feeling of using a real pen and paper, without the unnecessary paper waste! When you've got your ideas down, you can attach the magnetic S Pen Creator Edition to the back of your tablet - so you have it to hand quickly.
Control your Samsung device with maximum precision
The smartest stylus on the market - the S Pen Creator Edition is compatible with many of Samsung's Galaxy devices and features high-pressure sensitivity with 4,096 pressure levels and fast response times. The new and improved S Pen Creator Edition allows you to be as creative as possible with your Galaxy Device, enabling you to get the best experience possible from your tablet! This means that where ever you put the 0.7mm thin pen, it will appear precisely on the tablet!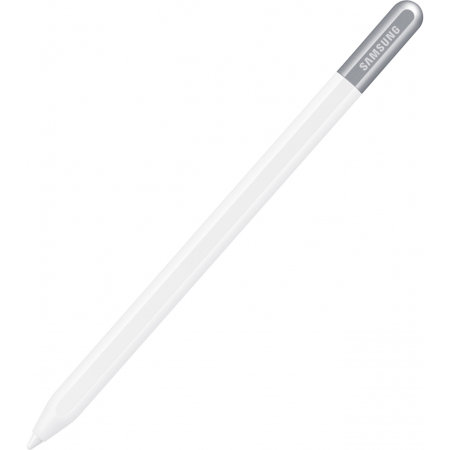 Control your device with the S Pen Creator Edition
Take photos, turn up the volume on a video, or switch slides in a presentation without even touching your tablet. With the pre-installed or individually adjustable S Pen Creator Edition gestures, you can conveniently control your tablet or any device with a gesture or at the touch of a button - very intuitively.
Official Samsung accessory
This is an official Samsung product, so is made to the highest standards with the best quality materials. It is designed specifically for use with the Samsung Galaxy range, so offers perfect compatibility, and does not impede the use of the touchscreen.
Never lose your S Pen Creator Edition
Pair with the Samsung App and keep track of the location of your S Pen Creator Edition, if you lose it, simply open the Samsung App and locate your S Pen - perfect for when you lose your S Pen down the side of your sofa! 
Specifications:
Round stylus pen Pro
Compact size
Controlled drawing and writing on your tablet
Accurate navigation
Keep the screen clean of fingerprints
Key Details
| | |
| --- | --- |
| Part No | EJ-P5600SWEGEU-TABS9 |
| ID | 96180 |
| Color | White |
| Brand Name | Samsung |
what compatible models does this work with

you can use the spen for creator edition samsung with all the tab s made by samsung.  The tab s6,s6 plus s6 fe, s7 s7 plus s8 s8 plus s8 ultra tab s9 s9+ s9 ultra tab.

what are the creator edition pro samsung specs

General Feature

Features

S Pen Writing, Water Resistant(IPX4)

Physical specification

Dimension (WxHxD)

9.1 x 153.35 x 8.7 mm

 
Weight

10.6 g

when was the creator edition pro samsung release date

the samsung creator edition release date was october 17, 2023

Getting Started Device layout and functions Pen button Pen nib • Do not bend or apply excessive pressure or an impact with the product while using it. The product may be damaged or the nib may be deformed. • Do not hard press on the screen with the product. The pen nib may be deformed. • If there is a magnet near the product, some S Pen actions, such as tapping the touch screen, may not work. • If you use the product at sharp angles on the screen, the devices may not recognise the S Pen actions. • If the product is not working properly, take it to a Samsung Service Centre or an authorised service centre. Name Functions Pen nib • Use the product to write, draw, or perform touch actions on the screen. Hover the product over items on the screen to preview content or access information in a pop-up window, such as the Air view feature. Pen button • Hover the product over the screen and press the pen button to display the Air command features. Some features may not be available depending on the devic

Device layout and functions
Pen button
Pen nib
• Do not bend or apply excessive pressure or an impact with the product while
using it. The product may be damaged or the nib may be deformed.
• Do not hard press on the screen with the product. The pen nib may be deformed.
• If there is a magnet near the product, some S Pen actions, such as tapping the
touch screen, may not work.
• If you use the product at sharp angles on the screen, the devices may not
recognise the S Pen actions.
• If the product is not working properly, take it to a Samsung Service Centre or an
authorised service centre.
Name Functions
Pen nib
• Use the product to write, draw, or perform touch actions
on the screen.
Hover the product over items on the screen to preview
content or access information in a pop-up window, such as
the Air view feature.
Pen button • Hover the product over the screen and press the pen
button to display the Air command features.
Some features may not be available depending on the devices.

what are the Device layout and functions

Using the product
When you touch the device's screen with the product, you can use the various S Pen
features directly without connecting to a device.
• The product is compatible with the Galaxy S Ultra, Galaxy Note, and tablets and
computers that support S Pen features.
• When using the product on devices with a built-in S Pen, open Settings, tap
Advanced features → S Pen → More S Pen settings, and then tap the Allow
multiples S Pens switch to turn it on.
• Some S Pen features using Bluetooth Low Energy (BLE) such as Air actions or
battery charging are not available with this product.
Replacing the pen nib
If the nib is worn out, you can replace it.
1 Insert the previous nib into the nib replacement tool's hole, and then lift up the
product to remove the nib.
2 Insert a new nib into the product's nib hole.
• Do not press the nib excessively when inserting it into the product.
• Do not insert the round end of the nib into the product. Doing so may cause
damage to the product or your device.

Air command for creator edition spen work

Air command is a menu that provides S Pen features and direct access to frequently used
apps.
To open the Air command panel, hover the product over the screen and press the pen
button. You can also tap the Air command icon ( ) with the product.
Select a function or app on the Air command panel.
S Pen settings
• Create note: Create notes in a pop-up window. You can also launch this feature by
double tapping the screen while pressing and holding the pen button.
• View all notes: Access all notes in the Samsung Notes app.
• Smart select: Use the product to select an area and perform actions, such as sharing
or saving.
• Screen write: Capture screenshots to write or draw on them or crop an area from the
captured image. You can also capture the current content and the hidden content on
an elongated page, such as a webpage.
• Live messages: Instead of text message, create and send a unique message by
recording your actions while handwriting or drawing a live message and saving it as
an animated file.
• AR Doodle: Record fun videos with virtual handwriting or drawings on faces or
anywhere else.
• Translate: Hover the product over a word to translate it.
• PENUP: Post your artwork, check out others' artwork, and get useful drawing tips.
• Bixby Vision: Use the Bixby Vision features to search for similar images, detect and
translate text, and more