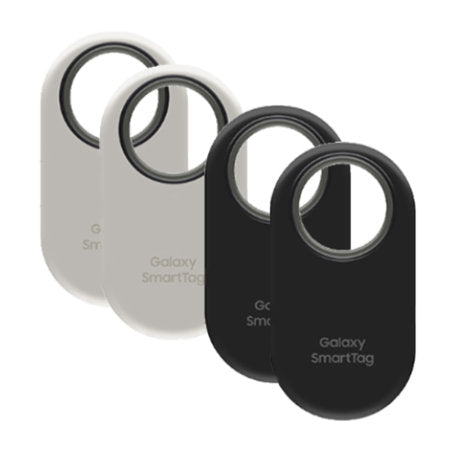 Official Samsung Black & White SmartTag2 Bluetooth Compatible Trackers - 4 Pack
Never lose what's important to you again with this four pack of Official Samsung Galaxy SmartTag 2 4 pack Android trackers. You can track where your most important possessions are, like your Bud Pros, wallets, keys, luggage and more. Feel secure with Samsung.

In the fast-paced world we live in, misplacing our belongings is an all-too-common inconvenience. Thankfully, Samsung has come to our rescue with the innovative SmartTag 2.
This compact device is a game-changer when it comes to keeping track of your valuables. Whether it's your keys, wallet, or any other item you frequently misplace, SmartTag 2 offers a reliable solution. With advanced Bluetooth connectivity and improved tracking accuracy, locating your items has never been easier. The device boasts an extended range, allowing you to track your belongings from a greater distance, giving you peace of mind even in bustling environments. One of the standout features of SmartTag 2 is its two-way tracking functionality.
Not only can you use it to find your items, but it also helps you locate your smartphone, ensuring you never lose your phone again. Plus, its replaceable battery ensures long-lasting usage, making it a practical and sustainable choice. With its water-resistant design and seamless integration with Samsung's SmartThings ecosystem, SmartTag 2 is a must-have gadget for anyone who values convenience and efficiency in their daily life. Say goodbye to the stress of misplaced items and hello to a smarter, more organized lifestyle with Samsung SmartTag 2.
Key Features
AR finding feature via UWB connectivity
Works with Samsung's SmartThings Find feature
Connect to devices over Bluetooth
Sleek, compact design
Keep track of objects like wallets, keys, earbuds, and more

Advanced Bluetooth Connectivity: SmartTag 2 by Samsung utilizes cutting-edge Bluetooth technology for seamless and stable connectivity with compatible devices.

Improved Tracking Accuracy: This device offers enhanced tracking accuracy, ensuring that you can locate your belongings with precision, saving time and effort.

Extended Range: SmartTag 2 boasts an extended Bluetooth range, allowing you to track your items from a greater distance, making it easier to find your valuables.

Two-Way Tracking: SmartTag 2 not only helps you find your belongings, but it also enables you to locate your smartphone. This two-way tracking feature ensures you never lose your phone again.

Replaceable Battery: Equipped with a replaceable battery, SmartTag 2 offers long-lasting usage, and when the battery runs out, you can easily replace it, ensuring continuous functionality.

Smart Home Integration: Compatible with Samsung's SmartThings ecosystem, SmartTag 2 seamlessly integrates with smart home devices, enhancing the overall convenience of your connected home.

Compact and Lightweight: Designed to be compact and lightweight, SmartTag 2 can be attached to various items without adding bulk, making it convenient to use with keys, bags, and other essentials.

Customizable Alerts: SmartTag 2 allows you to set up customizable alerts and notifications, ensuring you are instantly informed when your tracked items move out of the designated range.

Water-Resistant Design: With a water-resistant design, SmartTag 2 is built to withstand everyday splashes and spills, ensuring durability and functionality even in diverse environments.

Intuitive Mobile App: The accompanying mobile app provides a user-friendly interface, making it easy to set up, configure, and track your belongings using your smartphone or tablet.
Description

Never lose your possessions again with the sleek, Official Samsung Galaxy SmartTag2 Bluetooth Compatible Tracker. It will use Samsung's SmartThings Find feature to effectively find your most important possessions, so you can spend more time enjoying your day, and less time worrying. 
AR finding feature via UWB connectivity
AR Finding gives you a uniquely visual way to locate a lost item with a SmartTag2 attached, which will help you pinpoint the location of the tracker by using the ultra-wideband connection and the camera on your Samsung device. It will show you the way on your phone's screen through the SmartThings app and it will let you know you're close with a glimmering green light when you're at the destination. 
Works with Samsung's SmartThings Find feature
Samsung's SmartThings Find feature allows you to add a little bit of smartness to your home. If you're unsure where your keys are, simply look on the SmartThings app and you can locate where they are easily, quickly and effectively. This saves the major panic in the morning when late for work, as you don't have to start looking everywhere and can instead just open the app and find them instantly. 
Connect to devices over Bluetooth
The SmartTag2 can easily and effectively be connected to your device through Bluetooth. Unlike other forms of connection such as WIFI which requires an internet connection, this is an effective, reliable and secure way to connect your SmartTag2 to your device. If the item tracked is outside of your Bluetooth range, SmartThings Find will use other devices, safely and securely, to help find your device. This is completely secure and offers all the privacy that makes Samsung such a popular brand.
Sleek, compact design
The design is a sleek, oval-shaped device that features a cut-out loop which can be used to attach the device to a keyring or a lanyard, keeping it secure in place for your peace of mind.
Keep track of objects like wallets, keys, earbuds, and more
The SmartTag has an upper cut-out, so it can easily be attached to your keys or a lanyard. You can also fit the SmartTag into your wallet or connect it to your Buds Pro / Buds Live case, helping keep the devices that are most important to you safe and secure. 
What's in the box?
2 X Official Samsung Black SmartTag2
2 X Official Samsung White SmartTag2
Manual
Oem official smarttags
Key Details
| | |
| --- | --- |
| Part No | EI-T5600KWEGEU |
| UPC | 8806095039763 |
| ID | 96734 |
| Color | Black, White |
| Brand Name | Samsung |
Questions & Answers
Have a Question?
Be the first to ask a question about this.
Ask a Question