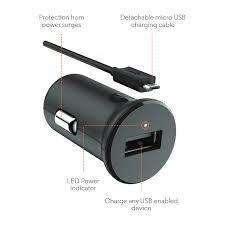 Motorola TurboPower 15 RapidFast Charge Car Battery Fast Charger Retail Packaged Quick Charge
Turbo Power technology fast battery charger puts your smartphone back in action for up to 8 hours of battery life in just 15 minutes of charging

Works with all usb motorola smartphones and works with all galaxy smartphones as quick chargers.
A fast charge and a  LED indicator light lets you know that your smartphone is charging

has  a 3.3ft detachable microUSB to USB charging cable for high speed charging

Works with Android, iOS, and any USB enabled device ( extra iphone cable not included)

includes qualcomm quick charger 2.0 for fastest charging with car battery charging capabilities

turbopower 15 fast car charger has qualcomm quick charge 2.0 technology for fast charging with your compatible smartphone.  Will work with any usb cable device.

same turbopower 15 car charger that is on amazon and works great as a rapid charge for droid turbo. Works as fast charge as the wall charger as well and moto g2 original charger.

Best motorola charger price you can find online and is the best quick battery charger.
Turbo car charger can out charge some of the best chargers on the market. It is compatible with motorola, samsung and iphone devices. Mobile turbo charger works great in your car as it has a standard car adpater and is the best turbo charger for your mobile phone. You cannot go wrong with the car adapter fast charging module. 
The small size is really nice for a moto turbo car charger. You can pack it away in your car very easy and does not take up to much space and works as a motorol quick charger. Works great as a droid turbo charger for your car.
Best moto charger for moto pure x. Works the best and is a motorola brand turbo charger. This rapid charge will work the best of any of the car chargers out there. Can also be used to charge your droid maxx at the fastest possible speeds. 
On your way to work and need a very fast charger than this is the one you need. You will be fighting over who gets to use it I promise you.
 Your phone will recognize this as a moto turbo charger and moto x play with turbo charger.
specs
Turbopower 15 Specifications
Charge at the speed of life
---
PORTS
Single USB
INPUT
12V
OUTPUT
Standard: 5V / 1.67A (8W)
TurboPower: 9V / 1.67A (15W)
TurboPower: 12V / 1.2A (15W)
POWER OUTPUT
15W
POWER CORD LENGTH
3.3 ft (1 m)
DIMENSIONS
1.9 x 1.0 in (48 x 25 mm)
WEIGHT
1.3 oz (37 g)
INCLUDED IN BOX
TurboPower™ 15 charger
Detachable micro USB to USB charging cable
COMPATIBILITY
Moto X (2nd gen), Droid Turbo 2 and Maxx 2
Smartphones
Tablets
Digital cameras
Other USB-compatible devices
is this a moto turbo charger

Hi yes this is the moto turbo charger with qualcomm quick charge 2.0

Is this qualcomm quick charge 2.0 or 3.0

Hello,

Yes this is the qualcomm quick charge 2.0 speeds. You can use this with any usb enabled device. It is a moto turbo charger and comes with fast battery charging and great speeds for your smartphone