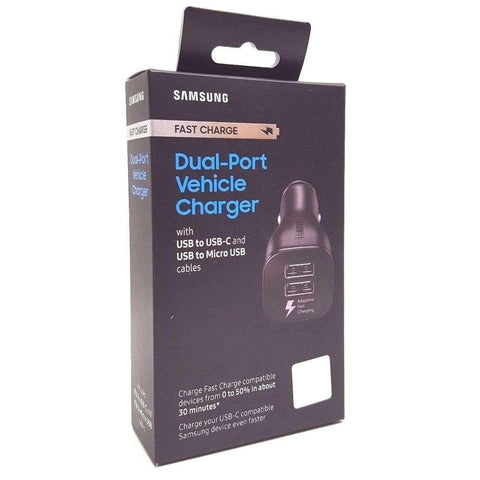 Samsung Galaxy Car Fast Car Charging Dual Port Vehicle Charger
Samsung  Galaxy S8 (s8 plus) Car Fast Charger usb USB-C CLA adapter car charger will work faster than anything you have experienced before . Optimized for samsung galaxy phones, smartphone this dual charger will allow you to fast charge 2 smartphone at one time with your s view cover on or off. With fast charging capabilities your note 7 will charge in 30 minutes to 50 percent giving you the power you need very fast. This best car Fast charger is compatible with the s6 s6 edge s7 s7 edge note 4 and note edge as well . Don't leave home without the car charger. The phone charger is a fast charger for your note 7 smartphone the best looking device I have ever seen. OEM# EP-LN920BBEGUS
UPC# 887276175973
Works great as a samsung car charger for s8 and s8 plus


The Samsung Fast Charging Dual-Port Vehicle car Charger will work with any usa standard car port via the included USB and USB-C CLA adapter, and its really sleek design keeps your car clutter free and out of the way. Samsung's charging technology powers your phone while it charges its battery, so you can make calls, check your messages or browse the Web while your phone is charging. The best samsung galaxy s8 car charger.
With Fast Charge technology, your battery can go from zero to up to 50% in about 30 minutes, so you can spend less time connected to an outlet and more time connecting with people you care about. The new Dual-Port Fast Charge vehicle charger will charge other Micro USB and USB-C devices without that feature as well, with up to a 2 Amp charging rate. This dual usb car charger is the newest release from samsung.
This is best samsung galaxy s8 car charger and with the samsung galaxy s8 release date upon us now is better than ever to get thos accessories you need for that great smartphone coming out. Even though there is no samsung galaxy s8 edge plus there is the regular s8 plus now and this car charger will work perfectly for that smartphone. 
Features:
For devices with Fast Charge, charge your battery from 0 to 50% in about 30 minutes with this car charger

 

Use the included USB to USB-C cable for even faster charging and data transfer on your USB-C compatible Samsung device phone charger

 

Charge other Micro USB devices at up to 2AMP speed phone charger

 
Pros of this in dual usb car phone charger usb type c samsung charger You can charge your samsung phone from zero to 50 percent in 29 minutes with this usb type charger. This is a supercharger usb type c and usb cable included and will charge your samsung galaxy device fast Comes with usb and usb-c cable Is this the best car charger for the samsung galaxy s5? Yes this will work great with the samsung galaxy s5. Is the a samsung adaptive fast car charger? Yes this will in car phone charger will fast charge your samsung s6 s6 edge s7 s7 edge and note 5 and also the s8 thats coming out. Does the samsung dual car charger work with the note 5? Yes this works great because you get the usb cable and usb type c adapter which will work with future models like the s8 or s8 edge samsung smartphones. Will the work as a rapid car charger for the s6 or s6 edge? Yes you can fast charge your s6 or s6 edge smartphone. Will this dual port fast car charger work with the s6 galaxy smartphone? Yes this will work with that phone no problem
Is this usb car charger adapter the best car charger for samsung s5 or note 5? This is the most newly released samsung dual port car charger and it probably has the most advanced technology so I would say yes this is the best car charger for samsung smartphones.
What does the car phone charger for samsung dual port car charger come with? This one comes with usb chord for all samsung models and comes with a usb type c adapter which samsung will be using on the s8 and s8 edge and future samsung smartphones.
Is this an oem samsung fast adaptive car charger? Yes I have seen a lot of samsung dual port car chargers claiming to be oem online but there not. Make sure it is made by samsung and this one is and comes with samsung warranty as well.
Is this a mobile phonecharger or rapid car charger for the s5 s6 s6 edge and s7 smartphones? Yes you can use with all of them.
Can you compare the verizon fast car charger to this one? They both are made really nice. Either one was is worth purchasing because you have 2 great brands behind both car chargers.
Will this usb c car charger dual port car charger work with the s4 smartphone from samsung? Yes you can use this with the s4 because it does come with a usb cable as well. You can charge 2 phones on this car charger.
Is this samsung dual car charger very bulky or small and sleek and what does it come with? This car charger will come with a usb type c adapter as well as a usb chord. And yes this very small and sleek and looks really nice compared to some other model ones.
Will this rapid car charger really improve on charging speeds compared to regular chargers? Oh yea this is way faster. You will be very happy with the speeds compared to regular car chargers.
Will this portable device work while driving to my parents house over 1000 miles away this christmas. Will this charger hold up for a trip like that.? Samsung is a great manufacturer and this will hold up and should work for a very long time.
This comes with a usb type c adapter why would I need that? Future samsung phones and other brand phones are going to be using usb type c in the future so you would have it as well as the usb chord.
I am need of a device that can fast charge 2 s7 phones in my car is this okay for that? Yes this dual port car charger will allow you to rapidly charge both s7 phones like you stated.
Will this fast charge or quick charge my s6 edge? Yes it will and has the added benefit of charging your wifes as well or husbands.
If use google maps a lot and also play the pokemon game a lot as well, will this fast charge my s7 edge? Yes this is the right place to purchase what you need to get you back in your game or keep you on pace to find your destination with google maps.
Is this the best usb car charger? Yes and it is a new release from samsung.
Questions & Answers
Have a Question?
Be the first to ask a question about this.
Ask a Question