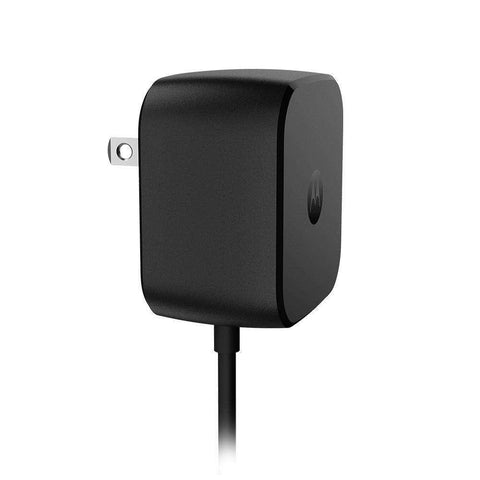 TurboPower 30 Wall Charger w/ Qualcomm Quick Charge 3.0 Fast Battery Charger Retail Packaging
Quick Charge Battery Charger TurboPower from motorola turbo 
moto turbo charger usb type c
fast battery charger compatible smartphones with usb-c

Moto Z Droid and Moto Z Force Droid moto smartphones and any other usb type c

cable comes in 4.5 length with usb-c adapter

Authentic moto turbo charger

c-type plug works same as one that came with phone

turbo charger for droid c force

high speed charger in about 30 minutes to half of charge
The motorola turbo charger 30 with usb type c adapter is a new line of chargers made by motorola one of the leading brands out there. 
Charge your battery fast when you need to get back online. The 28.5W TurboPower 30 motor turbo charger delivers up to 15 hours of power in just 16 minutes of charging on Moto Z Force Droid Edition. IThis moto turbo charger will charge any smartphone that uses usb type c charging fast as long as they have the qualcomm quick charge 3.0 in the software. It is a great motorola charger with 4.5 length. It is a usb-c fast charger.
Extra 
Charge fast for your Motorola Turbo Charger Compatible phones. Turbo Power Charger can give you the battery juice when you need it most. For example, the TurboPower™ 30 charger delivers up to 15 hours of power in just 15 minutes* to the Moto Z Force Droid smartphone†. TurboPower 30 is compatible with most devices using the new USB Type-C technology†. Motorola turbo car charger available at fast battery charger can give you great speeds too.

Usb-c compatible
USB TYPE C you plug in anyway and that is why USB Type-C connector is the best. Unlike its predecessors, it connects whichever way you try to plug it in…either way for convience.

What is USB Type-C?
USB Type-C is just another form of what we call the cable your using to charge your motorola devices.


What's in the box
Same motorola TurboPower amazon sells is the  30 USB Type-C Wall Charger, warranty card.
Specifications
Ports
USB-C plug on attached cable
Input
100-240 VAC, 50/60 Hz
Output
5V / up to 5.7A under control of Power Delivery compatible device
Power output
28.5W
Power cord length
4.5 ft (1.3 m)
Dimensions
2.0 x 2.2 x 1.3 in (50.5 x 55.2 x 31.8 mm)
Weight
4.8 oz (135 g)
Included in box
TurboPower™ 30 charger
Warranty card
Compatibility
Compatible with USB-C enabled smartphones and tablets, including the moto z family of phones
Questions & Answers
Have a Question?
Be the first to ask a question about this.
Ask a Question