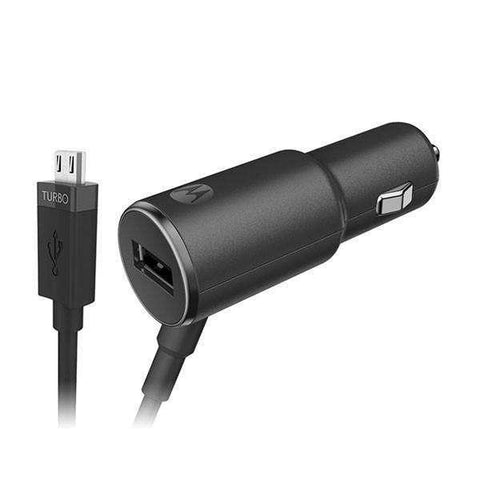 Motorola TurboPower 25 Car Turbo Charger W/ Quick Charge 2.0 Fast Best Car Battery Charger
Motorola Turbo Best  Car Battery Charger can give you 8 hours of battery life in 15 minutes
Motorola turbo charger comes in oem motorola retail packaging
Works with any iphone ( cable not included)
Works with all samsung galaxy devices with usb charging port
Works with motorola devices with usb charging port 
Moto turbo charger can charge up to 2 devices at once 
Has qualcomm quick charger 2.0 installed 
best quick charge 2.0 car charger
quick charge 2.0 car charger will give you great battery life.
TurboPower from Motorola is made to get your smartphone back up and running by allowing you to charge your phone fast. Moto turbo car charger has one usb micro cable installed ready to go and one usb slot to charge any device on the planet. 
What Is Turbo Power? Turbo power is a trademark of motorola. It is motorola family of fast chargers to help get your smartphone battery supply back fast. With this motorola mobile car charger you get some of the fastest speeds on the market today. 
Cool Software. TurboPower uses your smartphone software to keep tabs on your battery and change what is going in to the battery to give you the best performance charging.
Quick charge 2.0 vs 3.0 This will work for both 2.0 and 3.0 but you will only get 2.0 speeds. Dont worry most phones only have the quick charge 2.0 anyways. 
What are some quick charge 2.0 phones.  You can use most samsung galaxy smartphones with this device including s6, s7, s7 edge, note 4, note 5 etc. Plus any quick charge 2.0 moto turbo device you can use with this charger. As long as it has usb cable than this will work. This will work as good as the aukey brand being sold on amazon as a car charger for quick charge 2.0 compatible chargers.  Same technology great brand behind the the charge.
What Customers Are Saying About Motorola Rapid Car Charger
The turbo charger is great if your using maps with google or siri and it keeps your battery life alive an going.  It can keep up with everyday use no problem
Great turbo power charger and charges in about 30 minutes very fast. 
I recently purchased turbo 2 rapid car charger. I wanted to know when it will be here

Hello, Your moto turbo power car charger will be delivering today the tracking says. If you need anything just let us know thanks

Hi, is this the type-C USB that is compatible with theZ Force phones? Thanks

this has a usb cable attached to it but there is an extra port that a usb type c chord can be added the moto turbo charger. Motorola has not come out yet with a usb type c car charger only usb ones.

A great charge for a the newer motorola phones i the new samsung charger . It has the quick charge 2.0 for fast charging and also comes with a usb- c chord but can be changed to use a usb chord as well.

Will this fast motorola car charger work with the droid turbo 2, moto g5 plus and moto g4 plus?

This car charger from motorola will work with those phones plus it will work with the samsung galaxy s2,s3,s4,s5,s6,s7,s8 and edge phones. It will work with the samsung note 4,5,7,8 as well. It will work with htc phones and the iphone 4,5,6,7 s as well. You will need to purchase a chord sepertely for these to work though as there is an extra usb section on this you can use for most of these phones.

This is not a usb type c one it is a usb one. It will work with the usb type c phones if you just have a chord though as there is an extra slot for the chord.

This will work as a car charger for the droid turbo.

Both slots will turbo charge your phones or quick charge 2.0 for reference.

The output is turbo 9v.

Can you charge any smartphone with this motorola car charger

yes with motorola turbopower car charger you can charger any smartphone. You would need a chord though for your particular phone.

Will this charge battery fast or slower than an anker wall charger for the s7 edge.

The motorola charger is a quick charge 2.0 car charger so it will charge just as fast as any anker battery charger because the samsung phones only have up to 2.0 quick charge. Even if you purchased a 3.0 quick charge device it will not charge faster.

This is because inside the phone is only 2.0 technology from qualcomm.

When i charge battery faster with the moto turbo charger it somtimes is slow. How long do i have to return this

You can return within 60 days of purchase HASSLE FREE